From the U.S. Census Bureau (March, 2015)
In honor of Women's History Month, the Census Bureau released some fascinating statistics about women in the United States. But, fascinating doesn't necessarily translate into positive.
The stats include the persistent wage gap that shows women still make just 78 cents to every dollar earned by men as well as the significant disparity of the representation of women in STEM (science technology education, and math), such as in careers like computer programmers, physicians and surgeons, lawyers and judges, police officers, and civil engineers.
These harsh inequality facts are among the reasons why many agencies and the White House [in 2015] have committed to creating more opportunities in STEM (ScienceTechnologyEngineeringMath) for women and girls.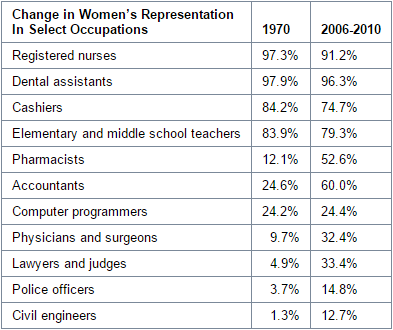 Click on this link to the U.S. Census Bureau to the article,  FFF Women's History Month, March 2015.